Fishing the Island
While many come to Anna Maria Island for the sun and beaches with seven miles of shoreline, jetties, fishing piers, bridges and canals, anglers are bound to catch Redfish, Snapper, Mackerel, Black Drum, Snook, Trout and Amberjack.
Pier fish at one of three island piers with bait shops on-site ready to supply your tackle.
The City of Anna Maria offers two Piers… The first is on the northeast side of Anna Maria called The Rod & Reel. It features a bait shop and two story restaurant called The Rod and Reel. There is a $2.00 fee to cast a line at this location. Just south and within walking distance of the Rod & Reel is Anna Maria Island's City Pier on South Bay Boulevard. Please note these piers are not necessarily child friendly as there is no gate/fence on the piers.

The third pier is Bradenton Beach's Historic Bridge Street Pier includes a down home eatery known as the Anna Maria Oyster Bar offering daily breakfast lunch and dinner with a friendly staff and great water views. There's a bathhouse with restrooms, bait and tackle shop, a Harbormaster's Office and a lighted floating dock.
Fishing Rules, Regulations and License for Anna Maria Island
If you are going to go fishing in the waters off Anna Maria Island you MUST purchase a fishing license and you have to obey the fishing regulations. Separate permits are required to take spiny lobsters, tarpon or snook.
Anna Maria Island SALTWATER Fishing Licenses
It is necessary to buy a saltwater fishing license when fishing in the coastal waters of the state of Florida (or taking marine species). The waters off the shores of Anna Maria Island are no exception. The license is required for finfish, shellfish and shells. Separate permit stamps are required for taking Snook, crawfish, and spiny lobsters. A special stamp is needed to take and possess a single tarpon. No stamp is needed to catch and release Snook or tarpon. Go to MyFlorida.com or Call 1(888) Fish-Florida.
Anna Maria Island FRESHWATER Fishing Licenses
All non-Florida residents who are 16 or older, fishing in freshwater or brackish water for freshwater fish must have a Florida State Freshwater Fishing License. To obtain a Fishing License, you may go to local bait & tackle shops, sporting goods departments at discount stores, some marinas and hardware stores, as well as any tax collector office (3340 East Bay Drive in Holmes Beach next to Walgreen's). You can also purchase licenses at any Wal-Mart or Kmart stores in Manatee County.
Who is Exempt from Purchasing a Fishing License in Florida?
Children younger than 16

Florida residents older than 65

Florida residents fishing in saltwater from land

Florida residents fishing in saltwater from a structure fixed to land

Persons fishing with a licensed operator of a boat charging fees for fishing

Florida residents who are members of the United States Armed Forces, stationed out of state and home on leave.

State of Florida department of veterans and community affairs or worker compensation notice of action.

Handicapped residents and residents certified totally and permanently disabled.

Non-Florida residents fishing from a pier that has paid a license fee.

For saltwater licenses, any Florida resident wading in less than 4 ft. of water.

A good rule of thumb is that if you have to pay to fish, you don't need a license, but ALWAYS make sure.
Charters
Bay or backwater (inshore or near shore fishing) primarily in bay from mangroves, flats, docks, and bridges. Most Bay guides have smaller boats and can typically accommodate about 3-5 passengers.

Gulf or deep sea (offshore). Obviously the longer the tour, the deeper the fishing. Gulf Fishing requires a crew and the boats are larger and typically can accommodate 4-12 passengers. The cost for deep sea fishing is $650 – $1000 and usually the more passengers the less cost per passenger. A successful catch will include grouper, snapper, and bigger game.
All captains suggest booking ahead of time and Christmas week normally books out one year in advance as well as other popular holiday weeks. Persons fishing with a licensed operator of a boat are not required to purchase a fishing license.
AMI Outfitters & Charters
SHOP – 401 Pine Ave.
amioutfitters.com
941-254-4996
Reel Cortez Charters
reelcortez.com
(941) 538-4290
Captain Aaron Lowman Fishing Charter
annamariafishingguide.com
(941) 465-8932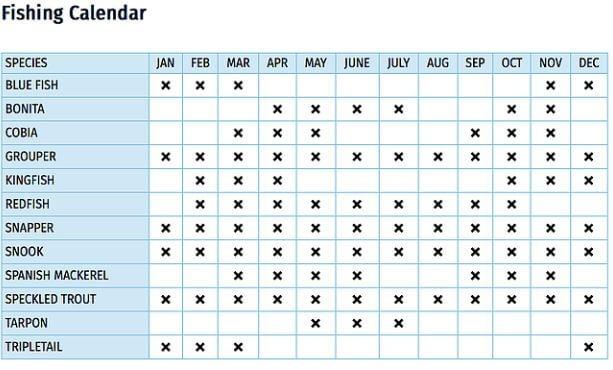 Cortez Deep Sea Fishing
cortezdeepseafishing.com
(941) 795-6969
CAPTAIN KIM'S ENTERPRISES
(941) 920-3307
Snapper Addict Fishing Charter
(941) 812-6364
Tampa Bay Fishing with Captain Matt
(941) 447-9888
Fish A.M.I.– Bradenton Beach
(941) 264-5081
Sea Pro Sportfishing– Holmes Beach
(941) 782-7381
Captain Justin Moore
moorefishing.com
941-720-6408
Captain Josh Charters – Anna Maria
Captainjoshcharters.com
941-447-6345
Captain Ryan Hackney

941-720-5267
Sumotime Fishing Charters

941-704-6763
Stray Dog Charters – Cortez
straydogcharters.com
941-794-5615
Offshore deep sea fishing charters.