Once Upon A Beach Carts


New Custom 2022
Luxury
Lifted Gas Golf Carts!
One of the best things about Anna Maria Island is its charming island pace and style. Slow down and experience the island for all it has to offer by cruising to the beach, stores, or local restaurants in luxurious style in one of our street legal golf carts. Easily breeze off to the beach, stores, and restaurants. Getting to and from a place has never been more fun!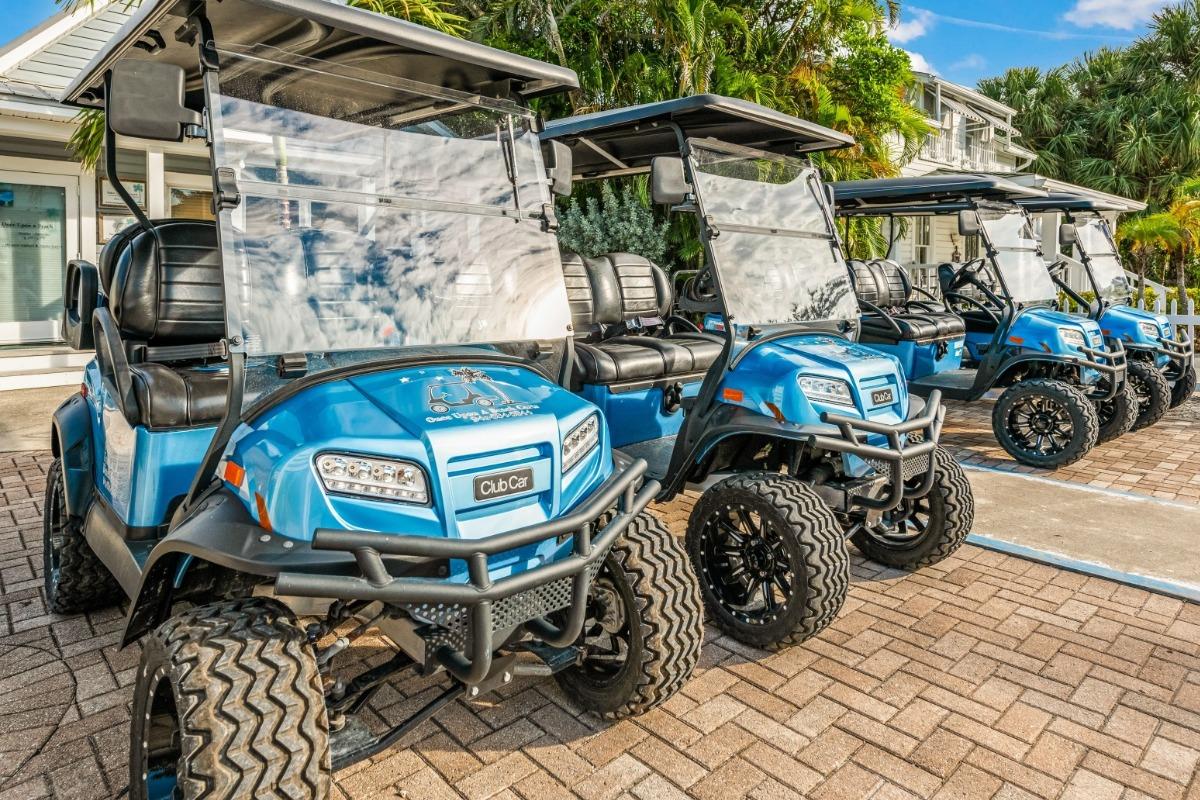 Our Golf Carts Are One of a Kind!
This street legal lifted low speed vehicle with extra-large canopy and premium 23" Morpheus tires… all engineered for enhanced stability, predictable handling, and minimizes road noise and vibrations for an exceptionally smooth and quiet ride.
Set yourself apart and ride in style with our unique upgraded features like our heavy-duty 14" rims and 23" tires, USB charging ports, fender flares, premium seating, rugged brush guard, and flip top rear seat.
Enhanced safety elements include durable overhead handrails, windshield, seatbelts, horn, side mirrors, and easy to maneuver Sportdrive™ steering. LED headlights, turn signals, and running lamps light your drive, make you more visible to traffic, and help to keep the fun going after sundown.
Space for arms, legs, and even the beach gear with a rear seat that flips out to provide a rugged bed perfect for chairs, umbrellas, or cooler!
Peace of mind. No worries on how or when to plug in as our gas-powered carts will run all day and night if fueled. No access to plugs or extension cords needed! Plus, parking is a bit less tricky with use of reserved Golf Cart parking spots available at many beach access points. Making those breezy beach trips even breezier!
Once Upon A Beach Vacation Rental guests who book a golf cart during their stay will receive a discount on their golf cart rental!
$50 OFF 3-4 Day Rental
$100 OFF 5-10 Day Rental
$150 OFF 8+ Day Rental
4 Passenger Lifted Street Legal Golf Carts
1- & 2-Day Rentals* $210 – $290
3 Day Rentals $375
4 Day Rentals $440
5 Day Rentals $495
6 Day Rentals $570
7 Day Rentals $645
8-10 Day Rentals $720 – $840
11-14 Day Rentals $895 – $995
15+ Day Rentals** Contact us for pricing.
*Not available for booking via advanced online reservation, available for same or next day reservations by call or walk-in ONLY
**Rental reservations must be 30 days or less.
6 Passenger Lifted Street Legal Golf Carts
1- & 2-Day Rentals* $285 – $375
3 Day Rentals $465
4 Day Rentals $540
5 Day Rentals $625
6 Day Rentals $710
7 Day Rentals $760
8-10 Day Rentals $880 – $1050
11-14 Day Rentals $1120 – $1350
15+ Day Rentals** Contact us for pricing.
*Not available for booking via advanced online reservation, available for same or next day reservations by call or walk-in ONLY
**Rental reservations must be 30 days or less.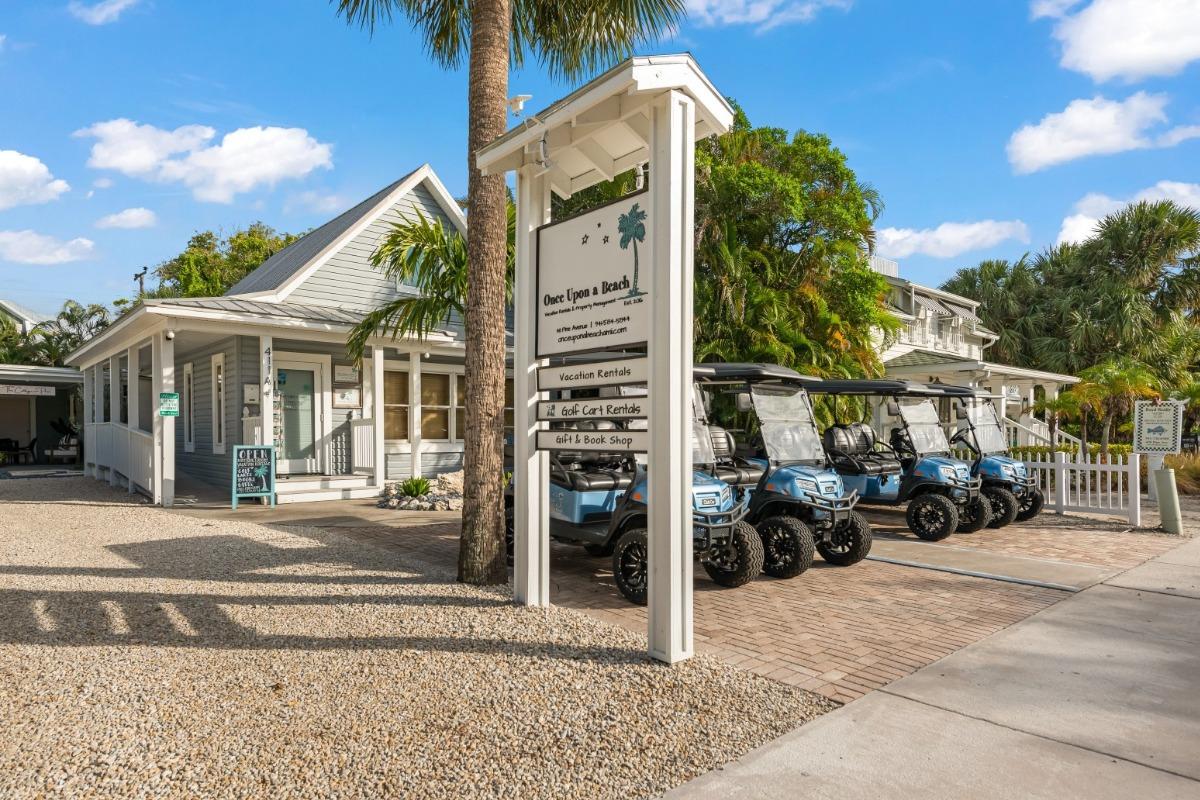 1 to 30 day rentals available
Minimum 3 day rental. Contact us directly for 15+ day rental pricing
Pick-up/Delivery is after 2 pm on the first day of your rental. Carts must be returned by 10 am on the last day of your rental. Sunday starts are not available and Sunday returns are not available with delivery option, must be self-returned onsite on Sundays.
All pick-ups/delivery are self-pick up (can be picked up from us after hours or delivered to rental home prior to start) and require completion of online pick-up form at time of receipt of cart and start of rental.
Our Low Speed Vehicles LSVs are titled, tagged and licensed and are required to operate under the laws just as a car would. All drivers must hold a valid driver's license. LSVs can be driven on any road on the island with a speed limit of 35 mph or under but can not be used to cross the bridges. Golf carts however are limited in where they can be driven as they can not drive on main thoroughfares. Neither can be driven on sidewalks or bike lanes. If you are driving on a main street and holding up traffic, it is recommended you pull aside to allow car traffic to pass you alleviating traffic congestion during busy times on the island.
Our cities are imploring the help of companies that rent golf carts and LSVS to ensure our guests know and follow the rules of the road. Please drive responsibly and respectfully of others for the safety and sanctity of our island!
22 Years Of Age or Older to Rent or Drive*. Maximum of 3 Drivers per reservation.
Each Driver Must Provide Valid Driver's License, Auto Insurance Information* & EACH Complete Agreement Waiver Prior to and/or at Check-In
Credit Card to Be Kept on File for Duration of Rental
*Unlicensed or licensed drivers 21 years of age or younger are NOT allowed to drive. International travelers without insurance must be 25 years of age or older and indicate international status on waiver/agreement.
This is a street legal low speed vehicle (LSV). All traffic and safety laws apply. No careless or reckless driving. May be driven anywhere the speed limit is 35 mph. May not cross bridges leaving Anna Maria Island.
One passenger per seat maximum. Maximum weight limit of rear facing seat is 400 lbs, please book an additional cart for safety reasons if your party will exceed occupants or weight limit on rear seat. Lap belts only and must be worn at all times. Child safety seats that require a shoulder safety belt will not be able to be used and children who are required to use one must not ride in vehicle without one. Child safety or booster seats are not provided. Violations of terms may result in immediate collection of cart without refund.
Pick up is 2pm – 5pm at our Pine Avenue location or Round Trip Delivery/Return Option available for $50 charge. IMPORTANT NOTE: Online Pick-Up Form must be completed at time of pick-up or delivery for signature to release cart and provide keys to main renter/driver.
Drop off/Return by 10am. Please complete Online Return Form for your records.
Carts are provided fully fueled with gas. Carts must be returned at same fuel level or $35 re-fueling charge will apply.
Same-day reservations are not available to be booked on line, must call for availability or to book.
Payment/Fees Policy:
Payment of full amount due at time of booking.
Renters are responsible for returning cart free of damage or excessive dirtiness, fully fueled, and any issued parking/traffic violations paid.
Guests are responsible for payment of any damage incurred including but not limited to damage done to side mirrors, tires, seat cushions, body, etc.
$50 delivery charge
$35 Refueling Charge (all gas carts are released with full tank of gas, all carts must be returned with full 6 gallon tank of 87 Unleaded Gasoline
$50 Per Hour Late Return Charge (if not returned by 10am day of return) up until 12pm day of return
$25 lost key fee
Full terms and conditions available at booking in our rental agreement and liability waiver.
Cancellation Policy:
All cancellations must be requested through email only. Cancellations requested 14 days or more prior to reservation will receive a full refund or credit. Cancellations made 14-8 days prior to reservation will receive a refund or credit equal to 50% of rental rate minus 6% administration fee. No-Shows or cancellations of any or all days of reservation made 7 or less days prior to start of reservation are no longer eligible for a refund. Next Day or Same Day reservations are non-refundable. We do not offer refunds for weather related reasons such as rain, wind, too cold, too hot, tropical depressions, tropical storms, hurricanes or evacuations due to tropical events. In the event, we must cancel any or all days of reservation due to unforeseen circumstances you will receive a full refund for each day cancelled and are not responsible for providing alternate transportation.
Once Upon A Beach Carts
411 Pine Avenue
Anna Maria, FL 34216
941-584-5844
carts@onceuponabeachami.com